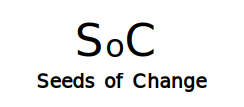 Seeds of Change is a group committed to the nurturing of faith in our children and their families. We aim to facilitate an encounter with God through the exploration of the Word, music, Godly Play and other media. We hope to create an environment where children, young people and their families have an opportunity to share faith experiences across cultures and build faith fellowship.
We also hope to answer our missionary call to spread God's word by bringing our gifts and skills to the Mass in service through music and scripture. In so doing, we hope that the children will feel more connected to the Mass and, in time, begin to develop a greater understanding, appreciation and love for it. We will encourage children to take up more responsibilities within the church community according to their age and capabilities so that they become more active participants in our community life with a deeper sense of what it is to belong to the body of Christ.
We believe that Jesus came to sow seeds of change. We seek to be the rich, fertile soil that, when Jesus spreads his good seed, planting his law deep within our hearts, it finds rest, takes root and produces abundant fruit in due season.
We seek to imitate Jesus and be like the sower in his parable, joyfully and generously spreading the Gospel, the Good News of the kingdom, by how we live our lives and by what we do in the hope that it grows into a good harvest that gives glory to God: 30-fold, 60-fold, 100-fold.
The group is aimed at children and young people in years 3 to 10 (ages 7 to 15). Young people in year 10 and above are invited to join the group as young leaders, helping to nurture the younger children whilst still learning and growing in themselves. The adults will be there to lead by example, to facilitate, teach and support the children wherever necessary and help them to explore the Word and prepare the music for the Youth Mass. Once per term, there will be a guest speaker who will run a workshop or mini-retreat for the children and youth within the parish, members of Seeds of Change or not, on our theme for that year.
We begin in the New Year, on 11th January. The group will be held on a Thursday, between 4:30 and 6pm during term time only. Registration forms can be found on our church website under "Children and Youth ministry." Please print, complete and hand it in to us. There will be a small termly subscription fee to cover the ongoing costs of running the group. Five pounds per child or ten pounds per family. Closing date for registration for term 1 is Monday 8th January.
In the bulletin, you will find an e-mail address you can use to contact us for more information. Please pay close attention to the hyphens within the e-mail address. They are important.
We are very excited to begin this new journey in our Parish and we hope that with your support, it will bring forth a hundredfold harvest in due season.