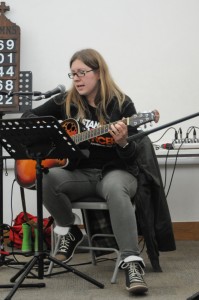 Aga Iwasiewicz-Wabnig coordinates the music group. New singers and instrumentalists are always welcome. Please come and speak to us after the Mass to join!
We meet each Saturday around 4pm to set up and practice together before the Mass. Hymns for the Mass are normally listed on the Google Calendar for the upcoming weeks (click on the Mass calendar entry to see the details).
Please let us know if you have any favourite hymns so we can add them to future selections.
Last but not least, we are currently quite limited with sound amplification provision (2 microphones for the whole group, one of which is shared with readers), so we are planning to stage a fundraising concert with profits used towards upgrading our sound system (as a joint investment with the wider Cambourne church community). Watch this space!